I'm reading again! I know, a great time to get a new round of the reading bug - year 12! I am on my fourth book in six days! As this year is going to be more intense for me, I will try to keep up my reading and blogging, but I won't blog as frequently as I would like. However, I will blog at least ONCE a week, with the addition of
twitter, pinterest, goodreads
etc.
What have I been reading, you may ask?
Delirium by Lauren Oliver
They say that the cure for Love will make me happy and safe forever.

And I've always believed them.

Until now.

Now everything has changed.

Now, I'd rather be infected with love for the tiniest sliver of a second than live a hundred years smothered by a lie.

Lena looks forward to receiving the government-mandated cure that prevents the delirium of love and leads to a safe, predictable, and happy life, until ninety-five days before her eighteenth birthday and her treatment, when she falls in love.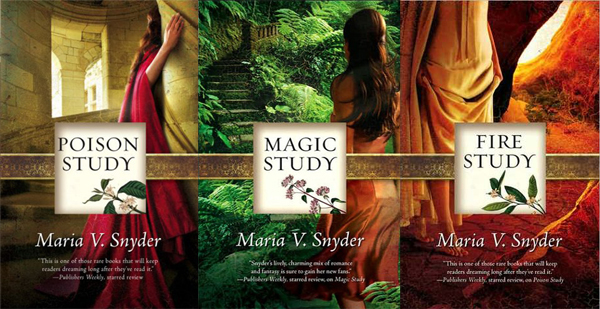 Study Series by Maria V.Snyder
1. Poison Study, 2. Magic Study, 3. Fire Study

Choose: A quick death or slow poison...

About to be executed for murder, Yelena is offered an extraordinary reprieve. She'll eat the best meals, have rooms in the palace—and risk assassination by anyone trying to kill the Commander of Ixia.

And so Yelena chooses to become a food taster. But the chief of security, leaving nothing to chance, deliberately feeds her Butterfly's Dust—and only by appearing for her daily antidote will she delay an agonizing death from the poison.

As Yelena tries to escape her new dilemma, disasters keep mounting. Rebels plot to seize Ixia and Yelena develops magical powers she can't control. Her life is threatened again and choices must be made. But this time the outcomes aren't so clear...


What have you been reading? I'd love to hear about it!